Our strategy is to provide clear guidance on how we aim to lead the future of global smart trade.
Our vision is to maximise shareholder value through leveraging our portfolio of world-class infrastructure assets, strengthening global supply chains and generating sustainable economic growth.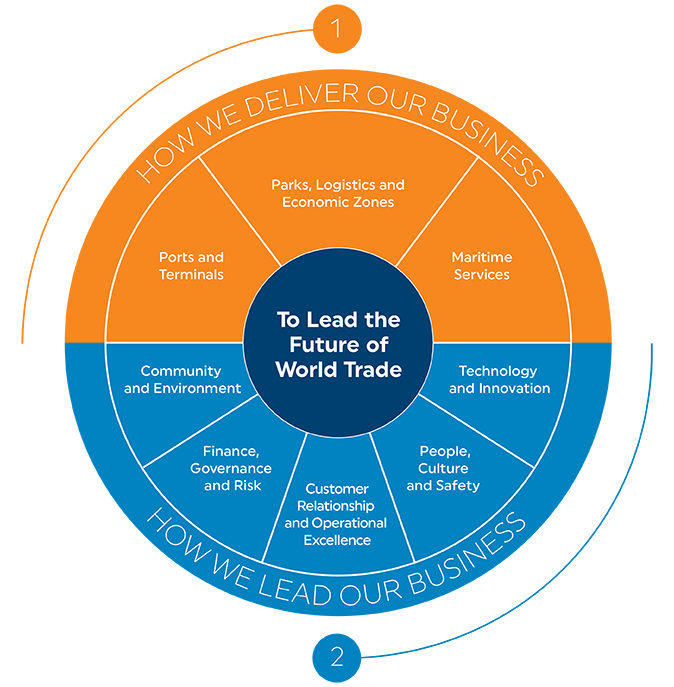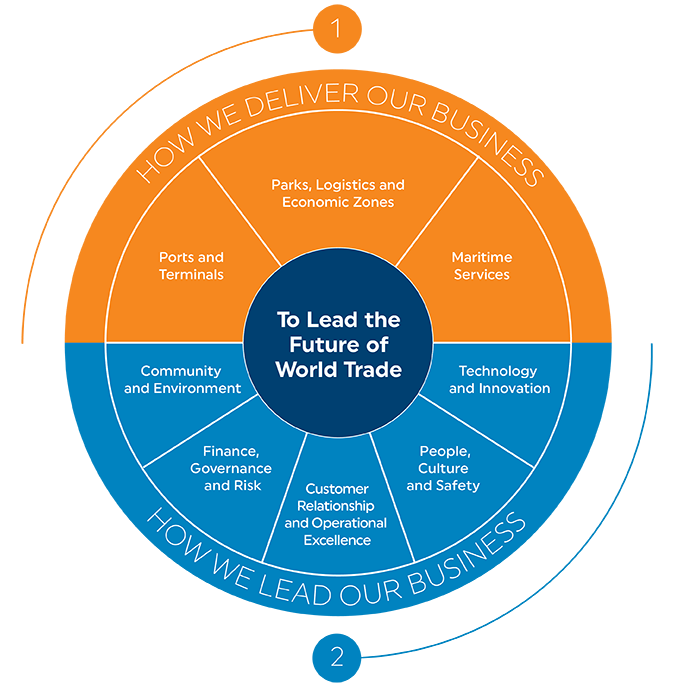 How We Deliver Our Business
To meet the needs of dynamic global supply chains, DP World develops and operates trade-enabling, strategically located and state of the art infrastructure and services, including marine terminals, inland terminals, and cruise terminals.
To provide end-to-end customer experience, we deliver integrated solutions across the containerised value chain, including industrial parks, economic zones, and logistics services.
To complement our global trade services, we provide maritime solutions through a wide portfolio of specialist vessels, river barging, chartering and port services. To leverage our experience, we are developing world-class marinas for yachting enthusiasts.
How We Lead Our Business
Customer Relationship and Operational Excellence
Our customers are a central focus and to ensure they remain completely satisfied with our global portfolio, DP World continually strives to improve and enhance its services; this operational excellence provides industry-leading processes and systems to benefit all our customers.
People, Culture and Safety
The DP World Institute runs training and development programmes globally for employees and industry professionals across the supply chain. We have taken steps to further embed a culture that nourishes diversity and innovation and DP World is fully committed to zero harm to people and creating a safety culture throughout the Group.
Community and Environment
DP World has made a major long-term investment, through the "Our World, Our Future" programme, to drive best practice and foster innovation in sustainability around the world. We have commitments and action plans to protect our environment and take steps towards building a vibrant, secure and resilient society.
Finance, Governance and Risk
We adopt the highest standards of professionalism and ethical behaviour throughout the Group. As a global organisation, the corporate governance policies followed by DP World are compatible with international best practice. Our approach to understanding, measuring and managing risk and returns from our investments helps to maintain our status as an industry leader.
Technology and Innovation
We invest in technology and innovation to provide our customers the best experience, build differentiated capabilities, and optimise our operations. We focus on applying cutting edge technologies that will transform performance such as big data and analytics, robotics, and artificial intelligence.
Our Strategic Objectives
Drive profitable and sustainable growth through a world-class portfolio of assets and services
Develop new revenue streams through acquiring new customer segments and service portfolio
Maintain strategic advantage through investing in digital and innovative opportunities