ANYONE. ANYTHING. ANYWHERE.
Global supply chains have never been more complex. At DP World we're making it simpler than ever for businesses to scale and succeed, anywhere on earth.
HELPING YOU SIMPLIFY YOUR LOGISTICS
At DP World we unite our unmatched expertise with our world class infrastructure for our clients. This means connecting and simplifying processes, reducing friction and helping trade flow. We continue to diversify our portfolio, enhancing our technology offerings, providing new services and ultimately helping goods flow faster.
We integrate best-in-class facilities, multimodal transport solutions, digital solutions and market access capabilities into seamless end-to-end supply chains. Our extensive suite of assets across our Logistics, Marine Services and Ports and Terminals businesses help ensure we get our customers goods top the right places as quickly and sustainably as possible.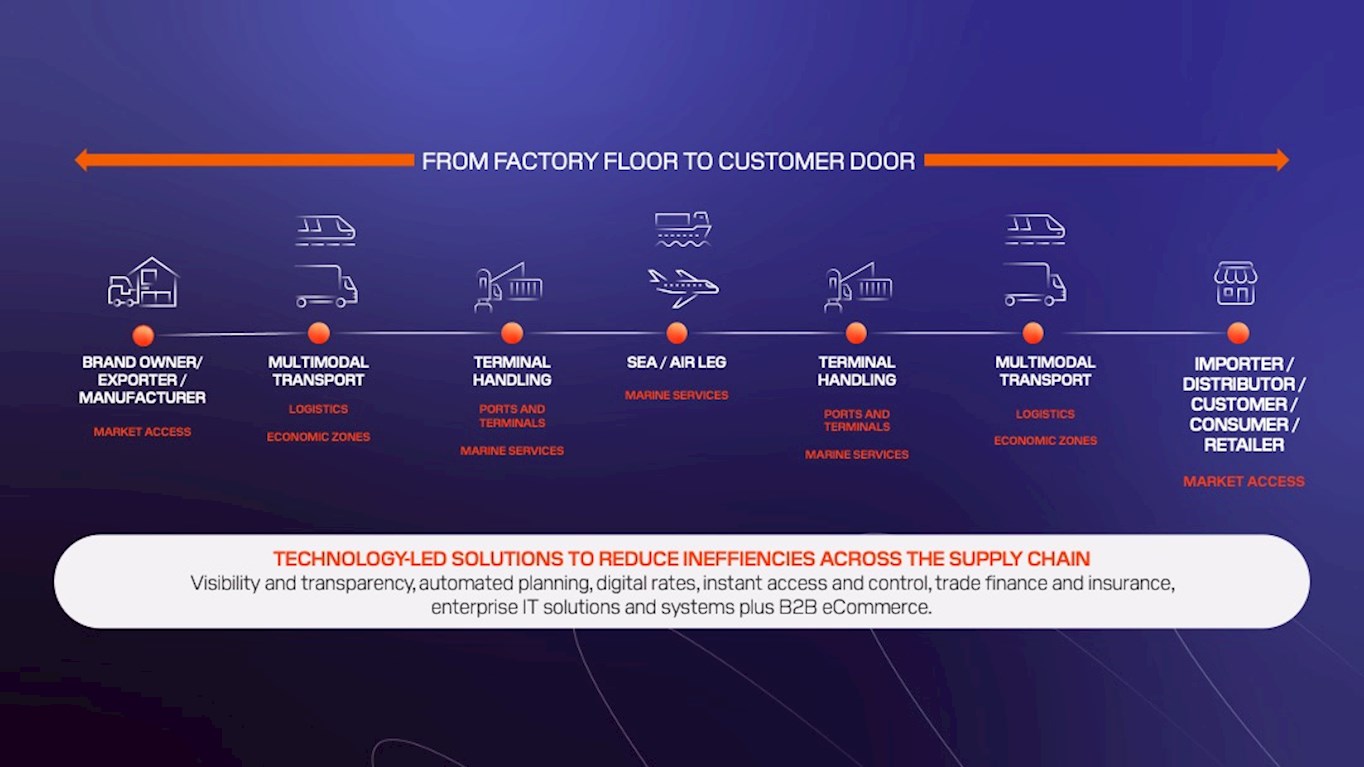 DP WORLD'S DIGITAL SOLUTIONS
FAQs
We are reimagining the future of global trade by uniting our infrastructure and expertise to lower costs and improve sustainability, creating opportunities for businesses and their customers around the globe. We do this in two ways. Firstly, by investing in innovation that will tackle the biggest challenges in trade, from port safety to securing finance to last mile delivery. But we are also adding flexibility and adaptability into the supply chain at every point.
We aim to minimise the environmental impact of our global operations – our goal is zero harm to the environment. Environmental stewardship at DP World means playing our part to preserve our planet for future generations, by reducing emissions across our global portfolio, protecting ecosystems and enhancing and restoring oceans. As a global business, having strong foundations to ensure we are operating responsibly is vital to our long-term success. We will mitigate the impacts of climate change by becoming a net zero logistics organisation by 2050.
We are transforming the global supply chain, using cutting edge technology to improve every aspect of trade and logistics. This covers financing your shipment to making your supply chain more resilient, expanding into new markets and opportunities for businesses of all sizes. We know that digitising global trade will create a more efficient, agile and accessible supply chain, and effectively increase economic opportunity for communities and businesses all around the world.