DP World Paramaribo joins interim board of WIMAC National Chapter Suriname
Date: 20/01/2022
DP World Paramaribo has joined the interim board of WIMAC National chapter Suriname and will be represented by ms. Cherryl Polanen.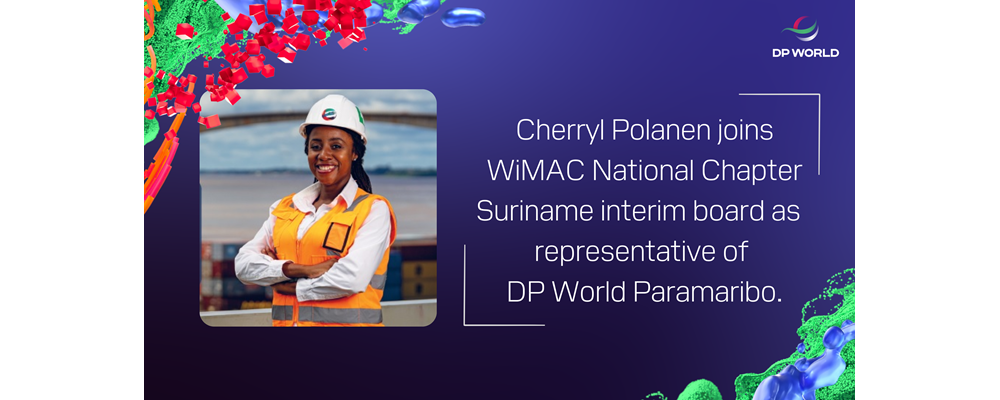 In what is traditionally known as a male-dominated industry, much of DP World's inclusion and diversity strategy is focused on women. Greater diversity on the reinforcing efforts can help to fuel our innovative thinking. For these reasons DP World, initiated the "DPWorld4Woman" in 2018, as part of its sustainability program called "Our World, our Future" to support in the participation and development of women in our community.
In line with the sustainability policy of DP World group based in Dubai, DP World Paramaribo has committed itself to "DPWorld4Women" program by supporting several local women's organizations in Suriname. For this reason DP World Paramaribo supported various activities of the national liaisons from WIMAC (Women in Maritime Association Caribbean) under the direction of Ms Tosca Pinas, in which the role of women in the maritime sector was mainly discussed.
Due to the common grounds that WIMAC has with the DPWorld4Women program, DP World Paramaribo officially joined the interim board of the first Suriname national chapter of the WIMAC on December 1st, 2021.
WiMAC was founded in 2015 under the auspices of the International Maritime Organization (IMO) to strengthen the discussion on the inclusion of women in maritime sector development. Suriname has been actively working to create the conditions to create and give content to a national chapter and to give to a national chapter.
The participation of DP World Paramaribo in the board can be seen in the context of its aim to have a better impact in the community where it is active and the aim to further express the commitment to the "DPWorld4Women" program. Ms.Cherryl Polanen has been working with DP World Paramaribo for 7 years now and will represent the company in the interim board as VP Public Relations & Marketing. In doing so, she will use her acquired knowledge and expertise in the field of PR & Marketing to support with the implementation of activities in Suriname.
The interim board consisting of; Mrs drs, Tosca Pinas (chairman), mr. Marita Kramp, Ilaisa Lila MBA, drs.Melinda Reyme, Eudrice Madhar, Natascha Bhaggan MPA and Cherryl Polanen MBA, will focus on the conception of the National Maritime Gender Policy and Strategy in Suriname. Furthermore, the board will be supported by Mvr Esha Kalloe and Romana Akontoe Bsc.
We wish Mrs. Cherryl Polanen lots of luck with this new challenge.
We use cookies on this site to enhance your user experience. By continuing to visit this site you agree to our use of cookies. Learn More