DP World Paramaribo and COSCO Shipping Line Suriname support mangrove project for the 2nd consecutive year.
Date: 24/09/2023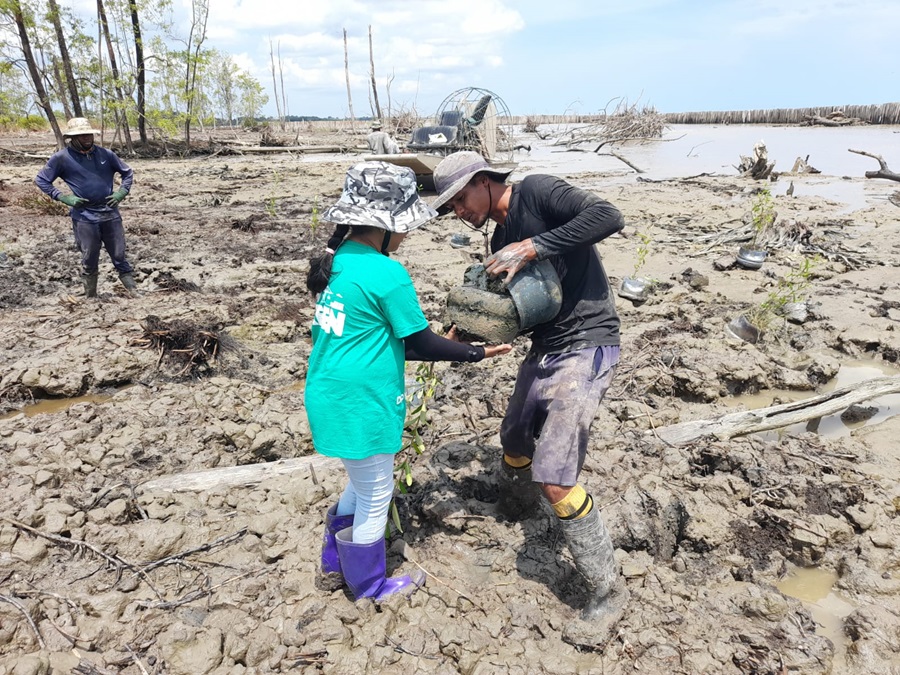 On September 22, DP World Paramaribo and COSCO Shipping Lines Suriname supported the Mangrove Rehabilitation project at Weg naar Zee for the 2nd consecutive year. Both maritime organizations have a sustainability policy focused on SDG 13 Climate Change and SDG 14 Life Below Water, and have therefore joined forces to increase the mechanism of the impact of this project
Every year, DP World Paramaribo initiates activities in September that emphasize awareness of Climate Change. These activities are organized in the last week of September under the name "Go Green Week".This year, DP World Paramaribo participated for the fifth year in a row in the volunteer program of the mangrove rehabilitation project at Weg naar Zee and for the second year in partnership with COSCO Shipping Lines Suriname. In recent years, this project was initiated mainly by volunteers from both maritime organizations. This year the concept was adjusted to include external volunteers to participate in the Weg naar Zee mangrove project. Mrs. Joan Telgt, board member of the Mangrove Forum Suriname (MAFOSUR), was also among the volunteers informed the participants about the function of the mangrove plant for the protection of our coastal plain.
Mangroves are important because they contribute to coastal protection, carbon sequestration, water purification and other ecosystem services they have to offer. By expanding mangrove plantings at an accelerated pace, we can together make long-term changes in the conservation of our coast. DP World Paramaribo & COSCO Shipping Lines Suriname believe in the power of cooperation and by setting a good example, the organization hopes to interest more volunteers to support this project.
About DP World
Trade is the lifeblood of the global economy, creating opportunities and improving the quality of life for millions of people around the world. DP World is here to make trade flow better, changing what's possible for the customers and communities we serve globally. With more than 106,500 employees across 73 countries, we are pushing trade further and faster towards a seamless supply chain that's fit for the future. By integrating our physical infrastructure with cutting-edge technology, we create efficient end-to-end solutions, pushing the sector towards better ways to trade, minimising disruptions from the factory floor to the customer's door.

About COSCO Shipping Lines Suriname
COSCO Shipping Lines is the largest container transport company in China, specialized in the transport of container cargo mainly on the the East Asian trade route and the Far East. COSCO Shipping Lines Suriname was founded in Suriname on May 8, 2018, as an agency of Surinam Port Services N.V. and aims to bring trade on and to the East Asian route and the Far East closer to Suriname.
We use cookies on this site to enhance your user experience. By continuing to visit this site you agree to our use of cookies. Learn More