STRENGTHENING THE SAFETY CULTURE
Occupational accidents
Whereas 2019 and 2020 saw a further significant decrease in the number of lost-time accidents, continuing the downward trend of the previous years, this decline was interrupted in 2021 with 52 lost-time accidents. Although the reduction of −30% envisaged in the global prevention plan of 2017–2021 compared with the frequency rate of 2016 was comfortably achieved in both 2019 and 2020, we unfortunately saw a substantial increase at the end of 2021. However, in terms of severity rate (the number of calendar days lost per thousand hours worked), a positive evolution can be seen from 2019 to 2021 with a decrease of 834 calendar days lost and a 44.8% lower severity rate. This means that although there were more accidents in 2021, they were less serious overall.

In the new global prevention plan 2021–2025, we are aiming for a target of 21.60 by the end of 2025.



A step up the safety ladder
In 2015 we had a culture measurement carried out by Avans University of Applied Sciences using the Hearts & Minds method. This international, low-threshold, concrete method provides insights into the safety experience and safety awareness of employees by means of a personal interview. The score is reflected in a "cultural ladder" consisting of five steps, ranging from pathological to progressive. The interview also provides valuable feedback that we can work with. In 2015, our overall result was 2.6, which corresponds to a reactive safety culture. In this phase, a reaction is only triggered when an occupational accident occurs. Changes in behavior are often short-lived. Underlying this was a significant difference in cultural perception between managers and executive staff, who were in the calculative and reactive phases respectively. Following that result, we set ourselves the goal of bringing all employees to the calculative step of the ladder by 2021.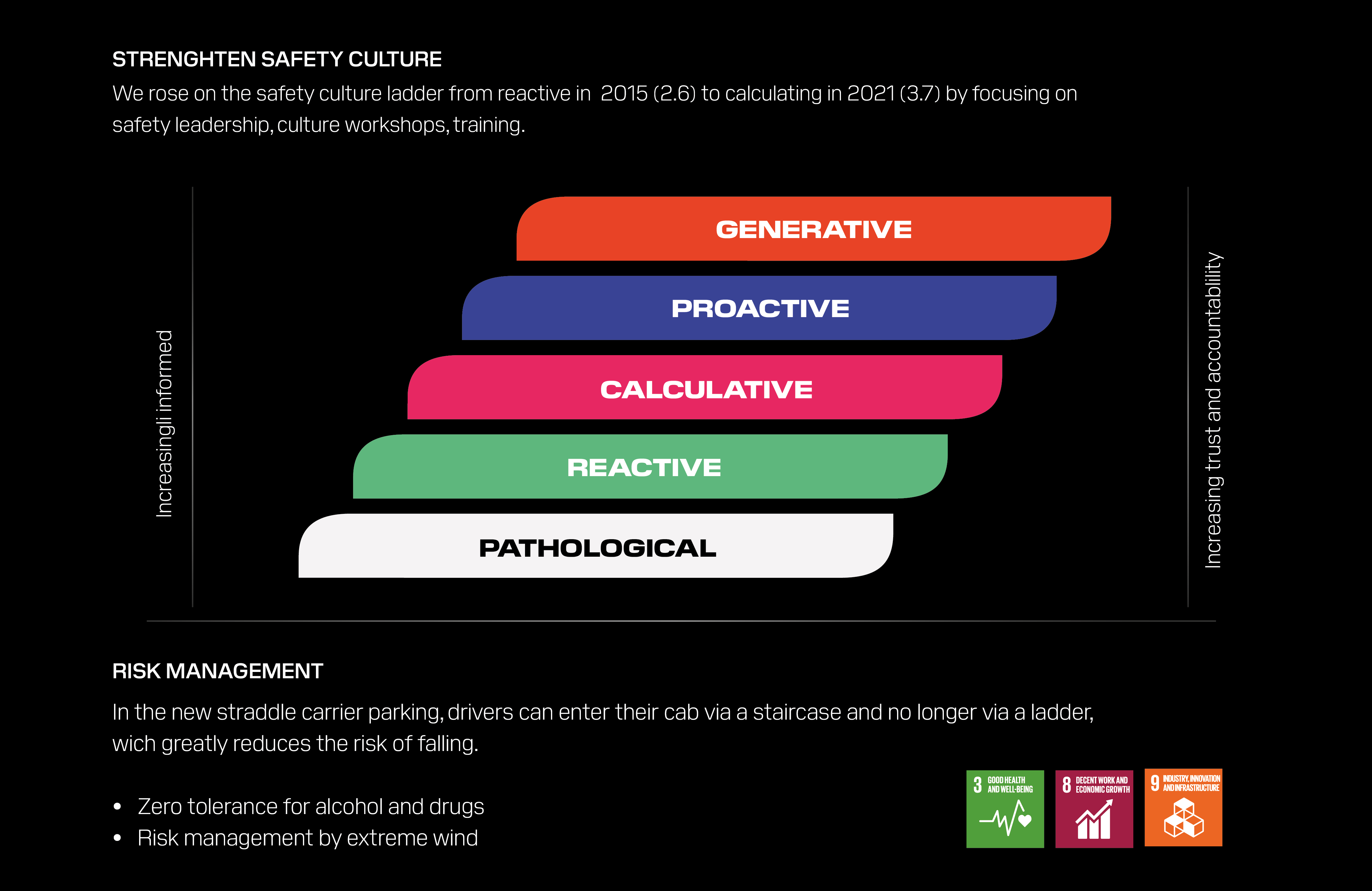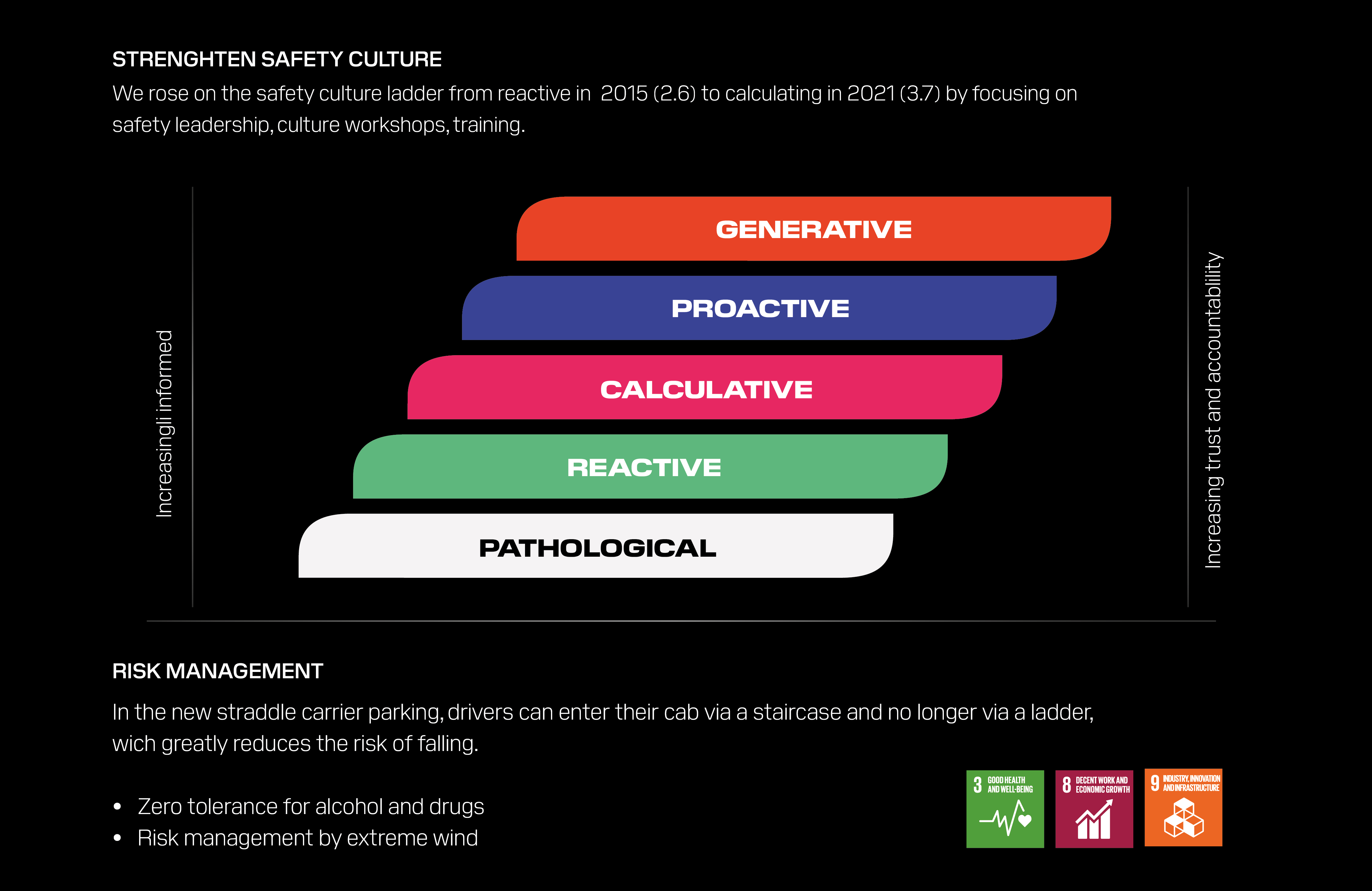 Various efforts in recent years have made this increase possible: culture workshops with chief foremen and foremen of the Technical department, training (e.g. concerning legal responsibilities of the hierarchical line), focus on (safety) leadership etc. The impact of these initiatives became visible when the latest culture measurement was carried out in 2021 by Dorien Vissers, CEPA safety culture officer. More than 240 employees from different job categories, shifts, and terminals (Antwerp Gateway, Empty Depot Services, and Hupac) were surveyed. We achieved an overall result of 3.73, so we climbed one step higher on the cultural ladder and achieved our objective! Progress was seen within each target group and the lowest score also fell within the calculative phase. Within each of the 18 dimensions, progress was made in comparison to the previous measurement. The biggest improvements were in post-incident actions, engagement, safety meetings, and statistics. The insights gathered were incorporated into an improvement plan. In the coming years, there will be a strong focus on leadership, engagement, and risk reduction.
"Partly due to initiatives to strengthen the hierarchical line, DP World has taken a step towards a calculative safety culture. For example, everyone from the port and company management followed the VOOM+ training programme. This enabled them to engage in a joint dialogue on safety priorities, ensuring that safety remains high on everyone's agenda."
Dorien Vissers, CEPA safety culture officer
"Top management must ensure that the resources and tools are in place and is responsible for ensuring that accidents do not occur. Behaviour always plays a role and there is always some risk, but we all have a responsibility to work on safety."
An executive committee member during the safety culture interview, when asked "Who is responsible for safety?"
"Lashers go onto cranes in pairs and have to ensure that they stay four containers away from the crane. They whistle to each other. They keep an eye on their buddy, basically."
Lashing and securing foreman during safety culture interview, showing that there is a general commitment at each layer, with no major gap in the perception of each level. In particular, there is a high level of engagement among colleagues.