Largest Vessels at DP World Melbourne
Date: 26/02/2021
DP World Melbourne handles two record-breaking sized vessels in single week
Melbourne, Friday 26 February 2021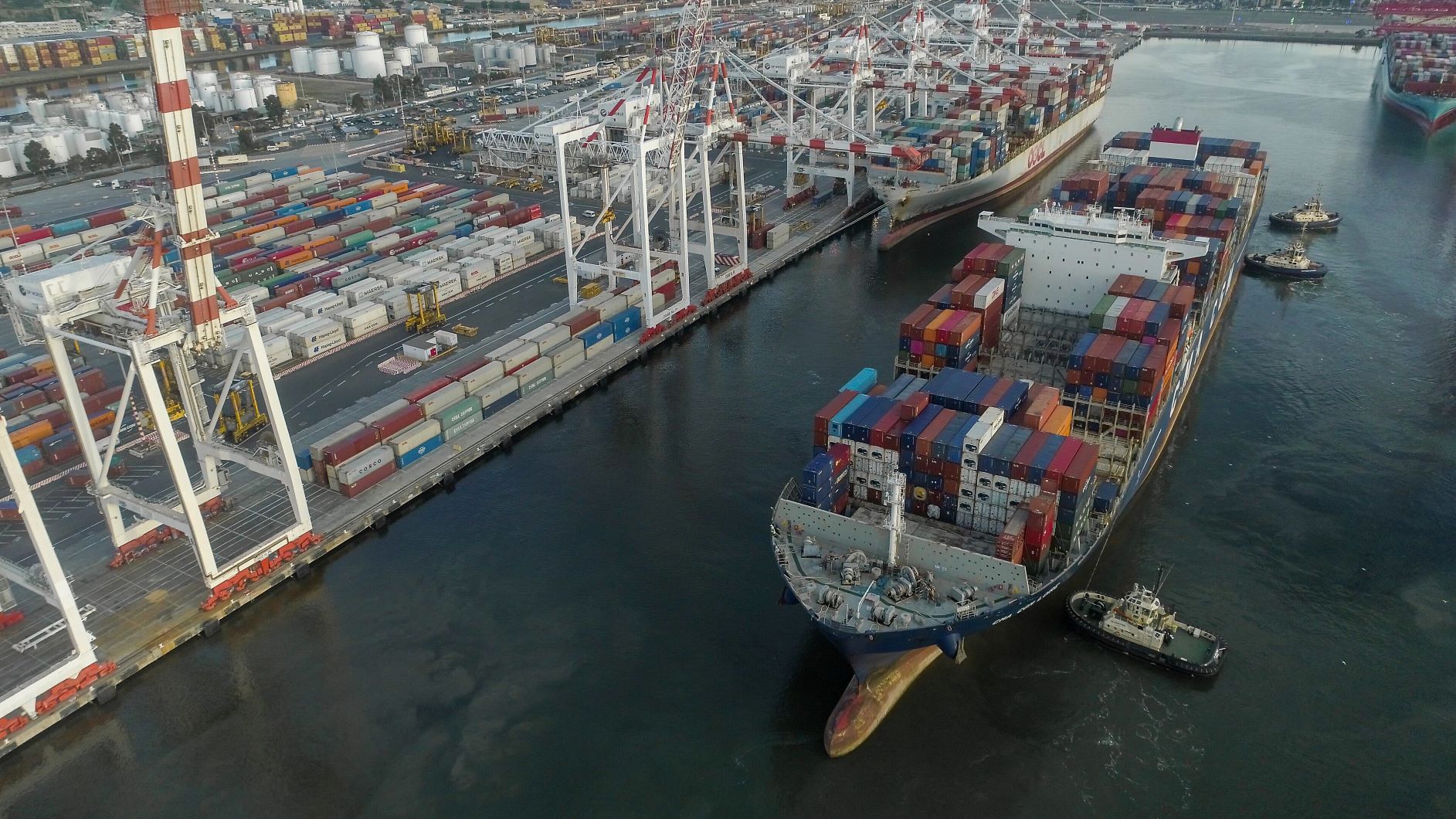 ANL-operated CMA CGM Loire has a 9,200 TEU capacity
DP World's West Swanson terminal has serviced not one, but two record-breaking sized vessels within the space of a single week, showcasing the Terminal's capacity to handle larger vessels.
DP World Melbourne's ground-breaking week began with the arrival of COSCO-operated 8,888 TEU OOCL Canada on Saturday 20 February. Measuring 335 metres long, 42.9 metres wide, and with a displacement of 120,000T, the OOCL Canada was the largest and heaviest to ever berth at the West Swanson Terminal, beating the previous TEU record of 8,084 achieved by the servicing of the Conti Courage.
Not holding the top spot for long, the OOCL Canada was bested in size yesterday, a mere six days later, with the arrival of the ANL-operated CMA CGM LOIRE.
Despite being 35 metres shorter than the OOCL Canada, the 300- metre long vessel clocks a whopping 9,200 TEU and topped off a week of milestone servicing at DP World Melbourne.
Andrew Adam, Chief Operating Officer at DP World Australia said:
"The berthing of large vessels like the CMA CGM Loire, and OOCL Canada, is a clear representation of DP World West Swanson's ability to service large vessels.
"DP World Melbourne, like all of DP World Australia's terminals, are equipped to lead the future of Australia's maritime trade. We're proud of our role in enabling Australia's trade flow."
Sean Jeffries, General Manager of Operations at DP World Melbourne said:
"The berthing of the CMA CGM Loire and OOCL Canada are great achievements for the Melbourne team as we continue to facilitate essential containerised trade while servicing larger vessels than ever before.
"Despite the challenges that we have faced in Victoria during the COVID pandemic, our frontline DP World Melbourne team have weathered the crisis and continued to serve the industry and community daily.
"I'd also like to thank the highly engaged and skilled marine professionals and support personnel who help plan and guide these ships into our terminal at West Swanson Dock.
DP World Melbourne at West Swanson continues to play a part in the servicing of big ships in the Port of Melbourne. Congratulations to everyone involved."
The ANL-operated CMA CGM Loire connects South East Asia and Australia, calling Fremantle, Adelaide, Melbourne, Sydney and Brisbane as part of its voyage.
The COSCO operated OOCL Canada called at DP World Melbourne's West Swanson terminal on Friday 19 February as part of the A3 Northern Loop, after embarking on its voyage from Shanghai via Australia's east coast.
DP World Australia's Melbourne terminal is located at the Port of Melbourne, Australasia's largest maritime hub for containerised, automotive, and general cargo. At 49 hectares, it is the largest container terminal operated by DP World Australia.
We use cookies on this site to enhance your user experience. By continuing to visit this site you agree to our use of cookies. Learn More