DP World named Platinum Partner of Fremantle Dockers
Date: 21/03/2023
DP World named Platinum Partner of Fremantle Dockers

Multi-year agreement with the AFL club part of DP World's commitment to strengthen brand and community connections in Australia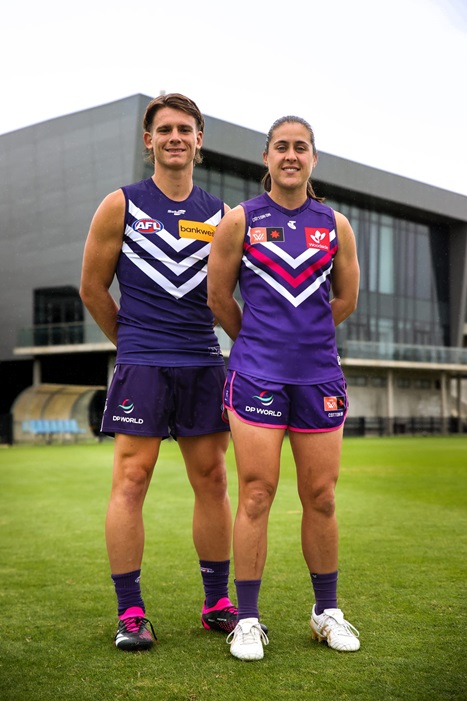 Fremantle, Australia, 21 March 2023: DP World and Fremantle Football Club have signed a multi-year agreement with DP World becoming a Platinum Partner of the Club for both the Australian Football League (AFL) and the AFL Women's (AFLW) teams.
The DP World brand will appear across the collar and chest of the attire of Fremantle's AFL senior coach Justin Longmuir and his coaching staff, as well as on both the AFL and AFLW playing shorts.
As a leading port and terminal operator in Australia, DP World shares similar values with Fremantle Football Club in enriching the community, delivering innovative thinking, and creating greater connections with their stakeholders. The two organisations will work closely to ensure the Club continues to move towards an era of sustained success within the AFL, and enable DP World to leverage the Fremantle Dockers' profile to grow its brand in Australia.
DP World's business operates in several Australian locations including the DP World Fremantle Port in Perth. DP World Fremantle is Western Australia's largest and busiest general cargo port, strategically connecting Australia's west coast with Asian trading hubs and beyond.
Glen Hilton, CEO & Managing Director of DP World APAC & Australasia, said: "Fremantle were a natural choice with their deep and historic ties to Fremantle, the port city and their bold vision to grow as an organisation. We are thrilled to join forces with the Fremantle Football Club at an extremely exciting time for both DP World and Australian sport. We take great pride in accelerating growth across our regions and delivering value to customers and partners. This partnership will assist us in doing that alongside one of the most exciting and dynamic clubs in the AFL and AFLW. This is a great opportunity, and we look forward to supporting the Freo Dockers across what is sure to be a successful season".
Simon Garlick, CEO of Fremantle, said: "We are really fortunate to have an innovative organisation like DP World join the Freo family. Our whole fabric of a football Club has been built on the 'Docker Spirit' from the wharfs and creating connection to our members and fans. We feel DP World are a business that pays homage to their heritage and humble beginnings on the wharfs but also have a strong focus on the future by creating new and innovative ways to better connect with their customers. Our vision as a Club is to leave a powerful legacy, so by having a solutions provider like DP World on our team ensures that we give ourselves every opportunity to achieve that."
- END -
ABOUT DP WORLD
We are the leading provider of worldwide smart end-to-end supply chain logistics, enabling the flow of trade across the globe. Our comprehensive range of products and services covers every link of the integrated supply chain – from maritime and inland terminals to marine services and industrial parks as well as technology-driven customer solutions.
We deliver these services through an interconnected global network of 295 business units in 78 countries across six continents, with a significant presence both in high-growth and mature markets. Wherever we operate, we integrate sustainability and responsible corporate citizenship into our activities, striving for a positive contribution to the economies and communities where we live and work.
Our dedicated, diverse and professional team of more than 97,600 from 158 nationalities are committed to delivering unrivalled value to our customers and partners. We do this by focusing on mutually beneficial relationships – with governments, shippers, traders, and other stakeholders along the global supply chain – relationships built on a foundation of mutual trust and enduring partnership.
We think ahead, anticipate change and deploy industry-leading digital technology to further broaden our vision to disrupt world trade and create the smartest, most efficient and innovative solutions, while ensuring a positive and sustainable impact on economies, societies and our planet.
In Australia, we are one of the largest container terminal and logistic park operators, with strategic locations in Brisbane, Sydney, Melbourne, and Fremantle. We leverage our global network's expertise and scale to offer unrivalled value and opportunities to our customers and partners to create a clear pathway through the global supply chain.
Our nearly 2,000 employees in Australia are all dedicated to building a business characterised by seamless connections, restless innovation, future of trade, and access and agility.