DP World TIS Pivdennyi hands over to the Odessa Regional Children's Hospital 300 thousand UAH to purchase medical equipment for babies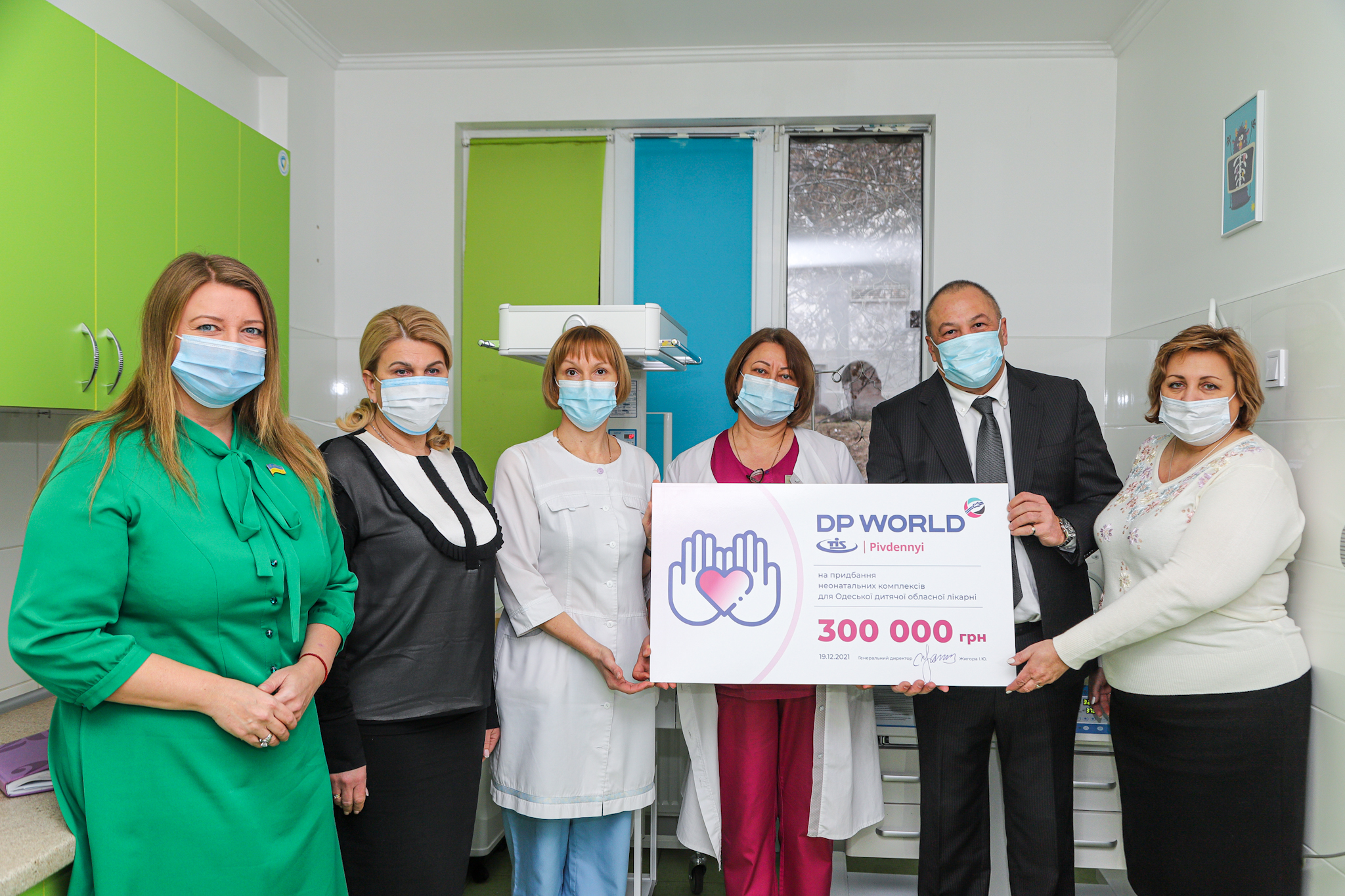 Igor Zhigora, Director General of container terminal DP World TIS Pivdennyi, handed over a cheque worth 3000 thousand UAH to the Intensive Care Department of the Odessa Regional Children's Hospital, states the Press Service of the Terminal.
"This money enabled the hospital to purchase 3 modern neonatal systems for newborn babies, namely 2 incubators and 1 neonatal apparatus. This equipment is intended for perinate babies requiring resuscitation procedures or special medical supervision", reports the Press Service.
The cheque was handed over to the Chief Medical Officer of the Children's Hospital in presence of Natalia Odariy-Zakharieva, Head of the Odessa Municipal Administration Healthcare Department. The aforementioned equipment is going to be set up in the nearest future. Apart from monitoring blood pressure, pulse rate and body temperature, the neonatal systems also provide the opportunity to warm up newborn babies, help them breathe and cure them from inogenous jaundice by means of phototherapeutic lamps.
"As a socially responsible business, DP World TIS Pivdennyi aims to establish good neighborly relationships with local communities. The terminal is locaded just 30 km away from Odessa, our team consists of Odessans and locals from adjacent areas, that is why we cannot ignore the vitally important needs of the Regional Children's Hospital, that would be out of the question. We realize that during the pandemic the healthcare system in Ukraine, just as the healthcare systems anywhere worldwide, marshals its greatest resources to fight against the Coronavirus. Therefore, we deem necessary to help the smallest Odessans and provide our doctors with modern equipment. May our children be in good health", stated Igor Zhigora.
Worth noting is that DP World TIS Pivdennyi is the deepest water terminal in Ukraine (with berth depths reaching 15 meters). The terminal has its own well-developed railway infrastructure and became the first Ukrainian sea port to introduce a regular block-chain service. In June 2020, DP World consummated a deal on buying up 51% of Terminal shares. As of the end of 2020, the Terminal increased its container turnover by 12% compared to 2019, reaching 244 858 TEU. This year, the largest shipping container line Maersk announced consolidation of all its ship calls in Ukraine at container terminal DP World TIS Pivdennyi.
We use cookies on this site to enhance your user experience. By continuing to visit this site you agree to our use of cookies. Learn More