Meet Fahad Albanna. From studying e-commerce to being a part of the leading smart trade enabler.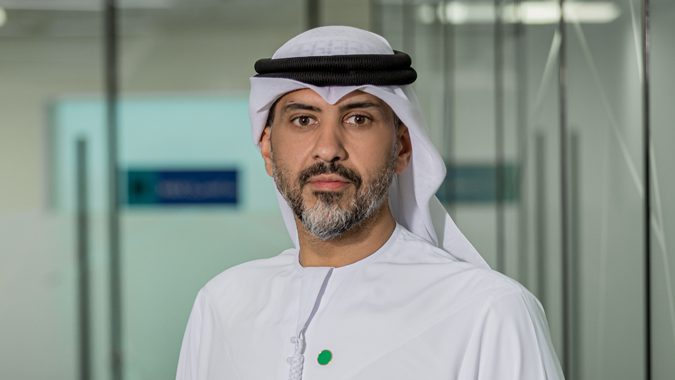 After graduating from the Higher Colleges of Technology in 2005, with a major in e-commerce, Fahad Albanna landed a job in one of the UAE's major banks. However, since he wanted to work in a field similar to his specialisation, he soon moved to DP World, where he explored the world of trade and began an exciting journey that proved to be the turning point in his life.
A productive environment for fresh graduates
The intensive training programmes offered at DP World intrigued Albanna. Each programme was carefully designed as per a professional methodology to polish the skill set of Emirati graduates, both professionally and personally. Training included office and onsite work, at the terminals and in container yards.
During his training period, Albanna realised that he was getting several years' worth of experience in just a few months, and that prompted him to put greater effort to give back to the organisation which had taught him so much. He achieved distinguished results that qualified him to take part in advanced training in India. This opened new prospects for him to understand the mechanisms of managing port and terminal operations in unfamiliar conditions. The course helped him in developing his field expertise. He then underwent additional internal and external training, including a leadership development course, along with 16 other trainees, in collaboration with the University of Arizona.
Leading by example
Apart from the extensive and comprehensive training Albanna went through, he attributes his career development to the exceptional leadership at the company, including Sultan Bin Sulayem, Group Chairman and CEO of DP World, Mohammed Al Muallem, Executive Vice President, DP World, and Abdullah bin Damithan, CEO and Managing Director of DP World UAE and Jafza. They have been role models for perseverance, commitment, and dedication.
During Albanna's initial days in the company, DP World was witnessing the early stages of its transformation from a local company to a global provider of port and terminal management and logistics services. The company was like a beehive that never stopped growing. Constant communication between Albanna and the company's exceptional leaders was the biggest source of learning and professional development for him.
Flow of trade and the vision of the founder
Albanna's progress in DP World through different positions, from an assistant for ship operations control, all the way to a senior manager of operations in Terminal 2, enhanced the role of the company in ensuring seamless flow of global trade.
Albanna recalled the achievements of the late Sheikh Rashid bin Saeed Al Maktoum, may his soul rest in peace, and his vision that transformed the industry forty years ago, laying the foundation for what Dubai has become today, as well as the aspirations of His Highness Sheikh Mohammed bin Rashid Al Maktoum, Vice President and Prime Minister of the UAE and Ruler of Dubai, who has continued on the same path and elevated Dubai's status. Albanna is grateful for the realisation of this vision, and his contribution to its success and development.
Digital transformation
An achievement Albanna is most proud of in his career at DP World is his role in developing the port's digital system when it was upgraded from SPARCS to OPUS. This allowed him to understand the integrated operations cycle supported by the best automation and digital functions. It also allowed him to work with various other departments and sectors. Albanna further participated in establishing the Container Terminal 4, where he was in charge of planning the container yard and selecting the necessary cranes and equipment. Albanna also managed the yard operations there until a full-time manager was appointed for the terminal. He then returned to his position of senior manager of operations at Terminal 2.
A promising and ambitious future
The work environment at DP World is characterised by innovation and creativity, with no barriers for any employee who wishes to develop and do more work. Albanna believes that he still has a lot to do in the organisation, and aspires to be part of the top-level leadership roles someday. With his hard work and commitment, Albanna's aspiration is not far-fetched.
Calling upon young Emiratis
Based on his wonderful experience at DP World, which opened endless opportunities for him and contributed to his personal and professional development, Albanna calls upon young Emiratis who are looking to kickstart their career, to join DP World.
He firmly believes that DP World offers an ideal work environment for fresh graduates who wish to work in a multicultural organisation. The several opportunities the company offers its employees will certainly open up new horizons, fuelling the ambitions of the younger generation. Albanna lauds the increasing number of Emiratis currently working in the logistics sector and notes that out of the 8 Emiratis he mentored and trained, 7 continue to work in DP World. This is a good indicator for the UAE's trade and logistics sector, which is an important pillar of the UAE's economy. Enabling the success and prosperity of the country is a national obligation that future generations must fullfil.