Meet Amna Al Ali... An Emirati woman who makes a difference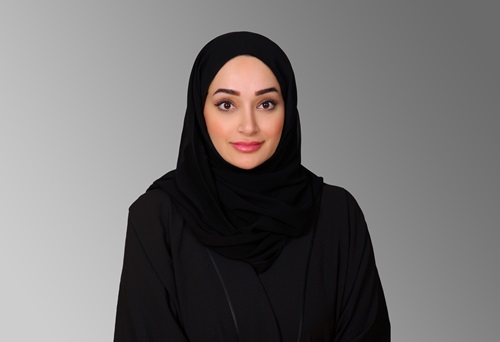 An outstanding personality with exceptional organisational and strategic thinking skills. A leader who motivates her team to cooperate and work in harmony. With over 15 years of experience in the business sector, Amna Al Ali has achieved a lot of success. She has developed strategies, high-quality business plans, and efficient tools to monitor the performance of employees and work teams in line with the organisation's goals and principles, to increase productivity and enhance revenues. Al Ali excelled in many areas, including customer service and customer happiness, leading the shift towards process automation, adoption of technology, and digital transformation.
Today, we would like to throw some light on the success story of Amna Al Ali, Head of Leasing & Licensing at Jafza. Speaking on the start of her career in Jafza, Al Ali said, "Throughout my life, I could have never imagined that I would have achieved so much of success and leadership opportunities in my career if it wouldn't have been for the unlimited encouragement I received at DP World."
The beginning
Speaking about her humble beginning, Al Ali describes her life as simple with no frills. Business or trade were not her areas of interest. Her first job was administrative work in the banking sector. However, there, she was bound by a routine and could not explore her potential or achieve significant success.
A landmark career move
Amna Al Ali's move to DP World in 2006 was a major turning point in her career. She was impressed looking at how the organisation prioritised the systematic empowerment of employees' by fully utilising their capabilities through the best training. Some of the training programmes offered at DP World were in collaboration with the most prestigious institutes and universities globally. The aim was to provide world-class professional skills to its employees in the UAE. Additionally, the motivation and encouragement from the management aided career development and advancement for several employees.
Opportunities for growth and advancement
For Amna Al Ali, DP World was a gateway to a flourishing career. She enjoyed equal opportunities on par with her male colleagues. This was reinforced by the organisation's culture of empowering women. After working tirelessly, Amna was promoted to head the Leasing & Licensing Department, one of the key divisions at Jafza responsible for revenue generation. Expansion of the free zone's business is measured based on the work of this department, which is a key indicator of the economic progress of Dubai and the UAE.
In her role, Al Ali found herself facing great challenges. The first decision she took was dealing with customers effectively and catering to their diverse interests. Her unique style of interpersonal communication, understanding, and good listening skills helped her develop quality services in Jafza. While keeping pace with the best business practices and meeting the organisation's needs, she ensured Jafza offered some of the finest services equivalent to global free zones. What sets her apart is her keenness to serve customers who are her top priority. She would seldom hesitate to go out of her way and reach out to the top management to support customers by devising ways to help their businesses grow. One such example was when Amna had to submit a request for the exception of one of the companies directly to the CEO to decide on it and facilitate the transaction. This emphasises that she is keen to serve her customers and places their interests as a top priority, helping them grow their businesses.
When the pandemic disrupted business, Al Ali took the lead to transform the manual work cycle in the Licensing and Leasing Department into a remote work cycle with simple tools. With support from her technical team, she ensured the transformation of procedures into electronic ones. She supervised the implementation of a paperless system in the department. Using technology, she managed to transform some transactions that would take up to 24 hours into instant services. This made it easier for the Leasing & Licensing Department to attract new customers. The team's achievements during the pandemic exceeded the pre-pandemic levels. As a proud leader, Al Ali lauds the efforts of her team that works round the clock.
Role models
Amna Al Ali considers H.H. Sheikh Mohammed bin Rashid Al Maktoum, Vice President and Prime Minister of the UAE and Ruler of Dubai, and H.H. Sheikh Mohamed bin Zayed Al Nahyan, Crown Prince of Abu Dhabi and Deputy Supreme Commander of the Armed Forces, as her role models as they always motivate Emirati women to make the impossible possible. The phrase that touched her the most was when H.H. Sheikh Mohammed bin Rashid Al Maktoum said in a tweet that an Emirati woman has the strength of a thousand men.
At the organisational level, Abdulla Bin Damithan, CEO & Managing Director of DP World UAE & Jafza, is the most inspiring for Al Ali. His journey of climbing the organisational ladder from the bottom up through perseverance and hard work has been a great source of learning. Looking at Bin Damithan's career graph to becoming the CEO, Al Ali learned that nothing is impossible, especially in an organisation such as DP World that considers achievements and talents as top priorities.
Amna Al Ali believes that her success in managing one of the most important departments in Jafza has motivated many women to join the department and be a part of the free zone. Today, she can proudly say that her distinguished team now comprises a majority of the female workforce.