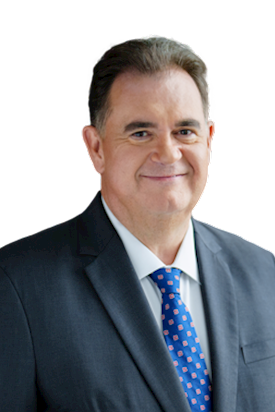 Glen Hilton
CEO & Managing Director, Asia Pacific
With more than thirty years of experience in logistics as well as port and terminal operations, Glen Hilton has been delivering effective and innovative solutions that make trade flow and unlock greater opportunities for people and businesses.
As the Chief Executive Officer and Managing Director for the Asia Pacific region, Glen oversees the company's operations across several countries including Australia, China, Hong Kong SAR, the Philippines, South Korea, Thailand, and Vietnam. Based in Singapore, Glen leads a team of 7500 employees in developing and implementing DP World's commercial and operations strategies to accelerate growth across the region and deliver unrivaled value to customers and partners. He has also worked to build strong partnerships with China-based suppliers and maximise port-side investments in Turkey, Europe, and Southeast Asia.
Glen started his career with DP World in 2005 and within a year, was tasked to lead port operations in the Dominican Republic, which grew by 80 percent under his stewardship. He was subsequently named regional Head of Southeast Asian operations, a role he held for four years prior to his current appointment.
Glen also previously served as the CEO of Malaysia's largest container terminal at the Port of Tanjung Pelepas and was General Manager of international cargo handling for an airline in his native Australia.
In addition to his professional accomplishments, Glen is passionate about following global politics and has an interest in world history. He is also a sports enthusiast and avid golfer.