Cyprus' cruise industry ready to set sail again
Date: 13/05/2021
Cyprus' cruise industry ready to set sail again
DP World Limassol ready to welcome cruise lines back, as Cyprus makes a dynamic return to become Eastern Mediterranean's top cruise hub
By Nawaf Abdulla*
More than one year since the COVID-19 pandemic broke out causing significant challenges for the travel industry, the tourism outlook is finally looking brighter. Τhe recent string of announcements by major international cruise lines, regarding their plans to set sail for Cyprus this summer, has boosted the confidence of tourism stakeholders ahead of the summer holiday season.
Royal Caribbean, Celestyal, Seabourn, Azamara and Celebrity are all making a dynamic return to Cyprus between April to early July 2021, with cruises going strong until October 2021 with July to be the busiest month. As anticipated, they will all be sailing to Limassol, where DP World Limassol's state-of-the-art Passenger Terminal will be ready to welcome and accommodate the largest cruise ships in the world. Cruise passengers will have the opportunity to take part in local excursions, including to rural villages and heritage sites, thereby rejuvenating the local economy and tourism sector.
Cruise homeporting can boost the tourism sector
While all announcements are equally important, there is one that stands out. Royal Caribbean's decision to make Limassol its homeport for the first time ever, is an incredibly important feat for our island and a great indicator that Cyprus is considered a top cruising destination for 2021. Royal Caribbean will be carrying cruise itineraries to the Greek isles this summer – calling at Mykonos, Santorini, Crete, Rhodes and Piraeus – with Jewel of the Seas, a remarkable vessel carrying more than two thousand passengers.
It is estimated that the Royal Caribbean's decision to station the Jewel of the Seas in Limassol, will bring multiple economic benefits to the local economy. This is partly because foreign travellers who want to go on the specific cruise, will first have to fly into Cyprus and stay here for a few days, bringing in additional revenue for the country. This synergy demonstrates the added value of homeporting for the Limassol port, as it can be incredibly beneficial for the local economy, creating the potential for pre- and post-cruise extension visits.
Ever since taking over as operator of the Cruise Terminal, DP World Limassol had recognised Cyprus' potential and the multiple benefits that a thriving cruise industry would bring to the local society. To this end, the Company focused its efforts on transforming the Limassol port into a port of choice for cruise lines and visitors, striving to turn it into a fully serviced home port for cruise ships, by offering a world-class experience. Besides, as the Minister of Transport, Yiannis Karousos pointed out at the official presentation of the health protocol, which was held at the Limassol Port, "every crisis creates opportunities and this is the chance for us to further develop the cruise sector and prove to these companies that we do have a tourism product, and we can offer the services needed to attract as many cruises and passengers as possible, thereby boosting our economy".
Time to re-establish Limassol as a cruise hub
The recent announcements signify that Cyprus is back on the cruise map, while they demonstrate how the health protocols implemented in our country, are perceived on a global level. Cyprus' effective crew change system, which has been praised by the international shipping community, as well as a high quality of service and state-of-the-art infrastructure, have all contributed to this success.
Moreover, Cyprus' stakeholders, including DP World Limassol, are hard at work to promote the safe conduct of cruise tourism and successfully seize the opportunity of the widespread reshuffling happening in the cruising industry because of the pandemic, with a view to establish the Limassol port as a major cruise hub in the Eastern Mediterranean.
To this end, the Ministries of Transport and Health and the Deputy Ministries of Tourism and Shipping, are preparing to publish the relevant cruise health protocol, which was drafted in cooperation with the country's tourism stakeholders, in time for the dynamic restart of the cruise sector. As operator of the Limassol port, DP World Limassol is an integral partner of the state in this effort, and is prepared to safely welcome cruise passengers, in adherence to the relevant protocols and guidelines.
Cruise lines create virus-free "bubbles" on board
It should be noted that, cruise lines have been implementing strict policies as to who can come on board, as well as more relaxed cancellation and postponement policies, resulting in cruise lovers being more eager than ever to embark on a cruise this summer. Moreover, since vaccinations in Europe are on the rise, quite a few cruise lines are now only accepting vaccinated adults on board, while others are also accepting a negative PCR test, with the aim of creating a COVID-free "bubble" on board. These precautions protect passengers and boost the confidence of the cruising public, but also governments, who may be worried that disembarking cruise passengers could exacerbate the epidemiological situation in their countries.
As such, cruise tourism could play a crucial role in the recovery of the tourism sector and the gradual restart of the economy, following the pandemic. As per the summer schedule, the Limassol port will be welcoming a large number of passengers this year, while more announcements from cruise operators are coming soon, according to the Deputy Minister of Tourism.
Over the past few years, DP World Limassol's efforts had been instrumental in promoting the cruise sector, leading to a 40% increase in cruise arrivals in 2019 compared to 2018. Cyprus was enjoying an impressive cruise revival before the pandemic changed all expectations for the 2020 tourist season. We are especially proud to be operating such an important port for the country, and we are confident that with targeted and collective efforts, we will be able to establish the Limassol port as a top cruise hub in the Eastern Mediterranean.
*CEO, DP World Limassol

Have you ever wondered how internship at DP World Limassol looks like? To answer this question, we have asked some of our interns, working in different roles, to talk about their experiences at DP World Limassol
DP World Limassol participated in an internship programme in cooperation with Cyprus University of Technology, giving the opportunity to two senior-year students to learn about the cruise, maritime and port operations sectors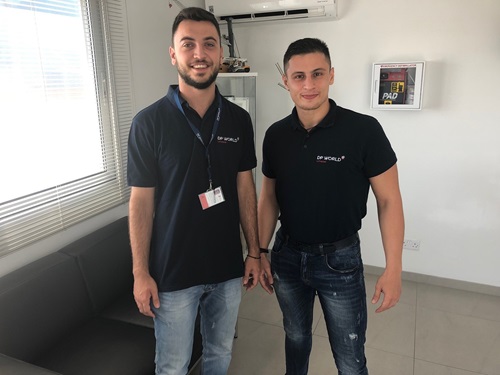 The link between training and the labour market is one of the major issues facing the modern era, especially given the increased demands of the contemporary business environment. In particular, training new entrants to the labour market is not only an obligation of state bodies, but also businesses.
On this context and focusing on the new generation of professionals of shipping and port services sector, DP World Limassol participated in an internship programme in cooperation with the Cyprus University of Technology (TEPAK), giving the opportunity to 2 senior-year students of the Department of Commerce, Finance and Shipping to get to experience the port's everyday operations over the course of five weeks.
During their 5-week internship, our Summer interns worked side-by-side with our people, contributing on real projects as they learned about trade and logistics. They had opportunities to connect with senior leaders and they were mentored and supported by the DP World Limassol team, gaining the opportunity to work across a broad range of projects.
The internship mainly aimed at providing students with the opportunity to experience a real work environment, preparing them to join the field of their choice, after they have completed their studies.
From theory to practice
Speaking about their experience at DP World Limassol, Nearchos Nearchou and Christos Anastasiou, expressed their excitement, since they were given the opportunity to fully comprehend about port operation, while improving their skills and broadening their knowledge.
"Through the internship programme I was given the opportunity to fully understand how a port operates. Specifically, I understood how the various types of vessels are serviced at the port, from the moment they enter the port, until they depart, as well as how each type of cargo is handled", said Nearchos Nearchou. He added, "I now also understand how other departments work such as the finance and the commercial departments, while I was also given the opportunity to obtain useful information from the health and safety, communication and HR departments. I strongly believe that the knowledge I gained from this experience will be very significant for my professional growth".
At the same time, Christos Anastasiou reported that "our participation in the training sessions on health & safety and Human Resources – that every DP World Limassol staff member is required to attend – was especially significant. Without a doubt, my experience in DP World Limassol was constructive and useful as it comes to my professional growth as well as in terms of the knowledge I gained and the prospects that are opening up".
"Every student should participate in an internship programme"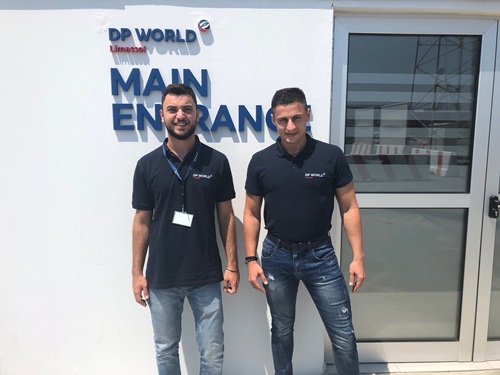 Asked if they would encourage more students to do an internship, they both unanimously said that they would.
"Like I said, it was an amazing experience. I believe that each student should do an internship, since they get the opportunity to put theory to practice", Nearchos said. Christos concurred that "through an internship you can see a different side of the shipping industry from up-close, such as for example, the operation of the port and procedures that are followed".
Positive outlook for the shipping industry
Aiming to have a successful career in shipping, the two young men expressed optimism for the future of the sector in Cyprus. "Considering that the shipping sector is constantly growing in Cyprus and given the country's advantageous geographic location as well as the various initiatives taken to promote the sector, I strongly believe that the prospects that are opening up, are very promising", said Nearchos.
Christos, who had experience in the cruise sector during his internship, shared a similar opinion: "I would say that the shipping and port industry is very promising, filled with opportunities. The cruise sector in particular, is especially interesting. In the framework of my internship, I spent most of my time at the New Passenger Terminal and worked on the DP World Limassol's 2019 outlook on cruises", he noted.
Aiming for a long-term collaboration
Referring to the organisation's collaboration with DP World Limassol, the coordinator of TEPAK's internship programme, Mr. Nicolas Asimenos, thanked the company on behalf of the Department of Commerce, Finance, and Shipping, highlighting that "we would like to express our gratitude to DP World Limassol for giving our students the opportunity to gain practical experience and put their academic knowledge to work, developing necessary skills, while also networking in professional fields related to their future career". "We feel both honored and privileged to have been given the opportunity to work with one of the largest port operators in the world and we are looking forward to extending our collaboration in the coming years", he stated.
On the part of DP World Limassol, Human Resource Manager, Mrs. Marina Christofi, stressed that investing in continued education is an integral part of the philosophy of the DP World Group. "DP World Limassol aims to play an active role in the communities in which it operates, and the youth are a key pillar in any prosperous community. Thus, we will continue to support similar initiatives, creating long-term collaborations with qualified organisations".
At DP World Limassol, we're firm believers in the insights, inspiration and sheer hard work that interns can bring, which is why they are such valued members of the team from day one. Every intern offers a fresh set of ideas and is able to contribute something new. We pride ourselves on ensuring each and every intern gets to experience every element of our business, making it an equally rewarding experience for them and us.