LOGISTICS

Related content

DP World Cargospeed in partnership with Virgin Hyperloop will enable fast, sustainable delivery of cargo around the world.

Read more

Our full service freight forwarding solutions work hand-in-hand with our intercontinental shipping network and our roster of global ports and terminals, making sure we solve any supply chain challenges our customers face.

Read More

TECHNOLOGY

Related content

Digital services that support shippers with tracking to ports around the world.

Learn more

Enabling cargo owners and consumers to move their goods by sea at the click of a mouse.

Learn more
Technology for a More Resilient World: Davos 2023 Session Recap
Date: 18/01/2023
Speaking on the second day of the World Economic Forum Annual Meeting in Davos, Julie Sweet, Chair and CEO of Accenture, said that "The metaverse is going faster than we expected because it's really tapping into human need."
"What we've discovered is that when you immerse yourself in an experience together you learn better and you can do things faster," she explained.
"The virtual and physical worlds coming together is actually net-new-value and we estimate there'll be a trillion dollars of revenue influenced by the metaverse by 2025."
The panel session , Technology for a more Resilient World, also highlighted the huge potential of quantum computing, 5G networks and digital twins to build a cleaner, safe and more inclusive world.
Cristiano Amon, President and CEO of Qualcomm, also expects significant progress in these areas in the next decade.
"The technology trend at the moment is the merging of physical and digital spaces," he said, adding that his firm is investing significantly in virtual reality, augmented reality and the metaverse.
He also talked about the potential to create digital twins for almost everything and the power of seeing those digital twins through the lens of VR rather than via the small screen of a conventional mobile phone.
At DP World, we have long embraced the transformative potential of smart technologies, which can bring greater transparency and resilience to the global movement of goods.
Innovations like smart platforms, digital supply chains – and one day the metaverse – are key tools in our efforts to connect communities with global trade networks.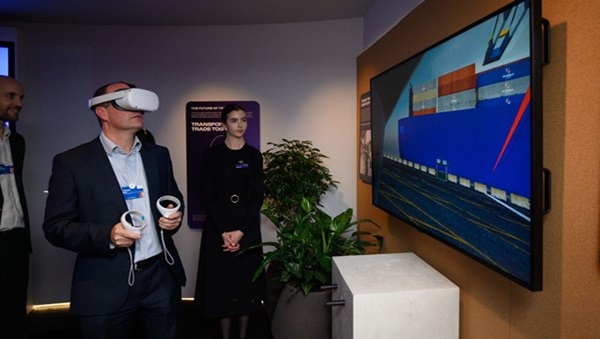 Visitors to the DP World Pavilion use virtual reality to explore DP World's Port Operations
We are using digital twins , for example, to make sure our ports are as efficient as possible and find any solutions to any logistics bottlenecks. And last year, at Davos, we announced that we are building our own version of the metaverse to solve supply chain challenges.
Read more about how DP World is harnessing the power of technology to change what's possible here or watch this video.
We use cookies on this site to enhance your user experience. By continuing to visit this site you agree to our use of cookies. Learn More