Breakbulk Middle East 2022 opens with massive industry participation
Date: 01/02/2022
The in-person event is supported by major players and aims to elevate the region's project cargo, logistics and maritime segment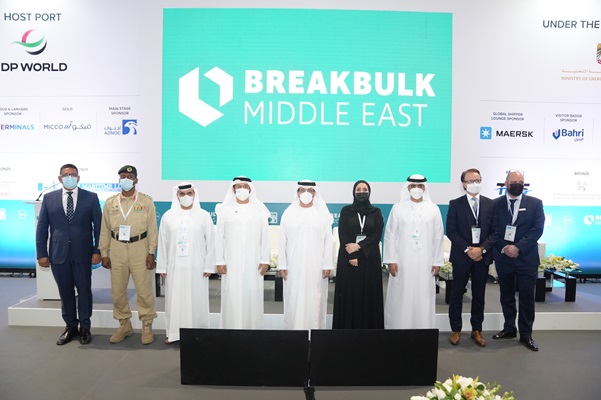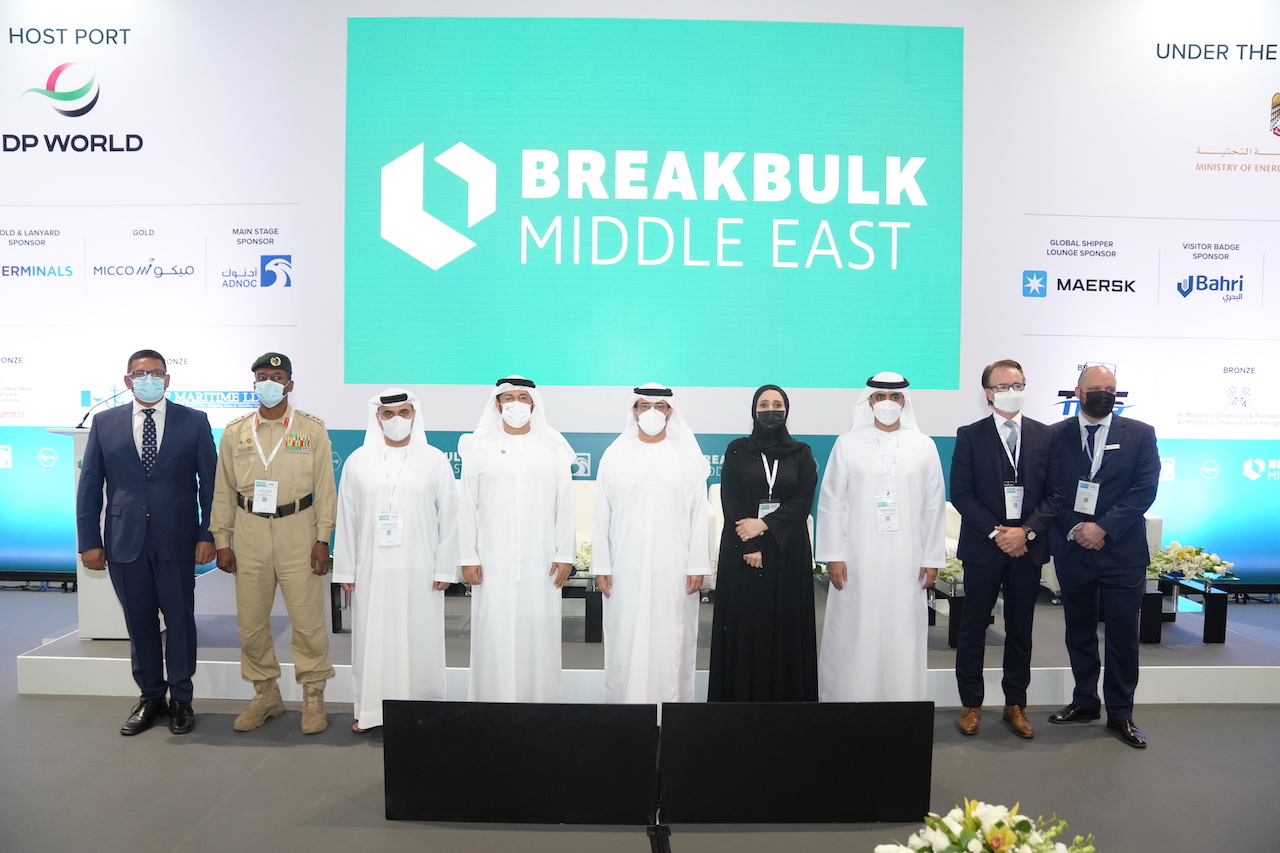 Breakbulk Middle East (BBME), the GCC's leading breakbulk and project cargo event, opened with insightful sessions and participation from regional and global industry leaders, shedding light on themes that included recovery strategies to tackle current challenges and the market outlook of the sector. Day one witnessed a 35 per cent increase in visitors. The event, taking place at the World Trade Centre, concludes tomorrow.
The large participation from the industry reflects its keenness to be part of a well-knit network that has fuelled the growth of the sector in the past few years. With BBME returning as a physical event in 2022 after the digital special last year, it features a topical agenda to reinforce the event's ability to foster consistent growth and unite key players to bolster the economy
Kicking off day one with his virtual opening remarks, H.E. Suhail Al Mazrouei, UAE's Minister of Energy and Infrastructure said, "The supply chain and maritime segment has been deeply impacted due to the Covid-19 pandemic. In the UAE we directed our efforts towards overcoming any challenges that came our way and catered to the market needs. We had our ports open during the pandemic to ensure seamless movement of essential items. We were also one of the first IMO Member States to designate seafarers as key workers and supported them by facilitating crew change, administering vaccinations, and providing them access to medical care
H.E. Al Mazrouei added, "Our commitment has been demonstrated through our global competitiveness ranking in several aspects. The country was ranked 3rd in transport services trade and Bunker Supply Index. The country's ports rank among the top 10 internationally in the volume of container handling. Our association with BBME comes as part of our vision to make the UAE a global hub for logistics and shipping. BBME will facilitate strategies that will help enhance the sector and take it to greater heights."
Way forward
With freight rates at a high for more than a year now, and mixed speculations on future prices, the logistics industry has had to reassess ways of working to keep cargo moving.
The opening session on 'Managing Rates and Capacity: Outlook, Key Drivers and Remaining Competitive' brought some pressing concerns to light. Top experts gathered to discuss the outlook and impact of the current freight rates on business and the supply chain. They further addressed issues related to the market landscape, opportunities in the sector, Breakbulk industry's role in easing the situation, navigating through the current scenario, and learning from success stories. Panelists included Amadou Diallo, CEO Middle East & Africa, DHL Global Forwarding; Kristian Lund Knudsen, Global Head of Special Cargo Solutions, Maersk; Kyriacos Panayides, Managing Director, AAL Shipping; and Martin Harren, CEO and Managing Director, Harren & Partner and SAL Heavy Lift. The session was moderated by Cyril Varghese, Global Logistics Director at Fluor.
Abdulla Bin Damithan, CEO & Managing Director, DP World UAE & Jafza said, "Breakbulk Middle East has been a great platform underpinning the collective efforts of the sector to overcome the challenges and find solutions to environmental concerns. The insights gained from the peer-to-peer learning and knowledge sharing at the event will encourage innovative ideas, helping the revival of the industry. The recent shortage of container capacity on international trade lanes and increase in freight rates have prompted cargo owners to transport goods as breakbulk, creating new opportunities for the sector. The supply chain disruptions will stay for some time. With that said, the industry is gradually bouncing back. To tackle the roadblocks, we have increased the capacity and enhanced the capabilities at Jebel Ali Port to enable trade across all modes using our assets globally. DP World has contributed greatly to the progress of the UAE's and Middle East's breakbulk sector and will continue to help the country maintain its status as a leader in trade and logistics."
Digital Transformation
With the rapidly changing industry landscape, and the world moving to digital solutions in almost every business, the global logistics and maritime segment is looking to enhance its digital portfolio to cater to the evolving needs of the sector. The past couple of years have clearly demonstrated the value of more automated and digital processes and there is greater understanding of the efficiency gains that can be made with more integration of technology.
Day One included a session on Digital Transformation with participation of Khalid Al Shehhi, Marine Projects Manager, ADNOC Logistics and Services and Marten Berg Thomsen, Head of Special Cargo Solutions, West and Central Asia, Maersk, who highlighted how companies were digitally transforming business models e.g. port community systems and freight platforms, and working towards increasing efficiency through technology.
Saif Al Mazrouei, Head of the Ports Cluster at AD Ports Group, said, "Despite the disruptive impact of the COVID-19 pandemic in recent years, AD Ports Group and its partners in Abu Dhabi, have worked diligently to support efforts aimed at cultivating economic stability and recovery, while maintaining the steady flow of goods. The past few years have seen the continued expansion of our port assets that include ongoing developments at our flagship, Khalifa Port, as well as other notable expansions at our ports in Al Dhafra Region including Mugharraq Port that will serve as a vital link between the mainland and the offshore Oil & Gas sector. During that time we also forged numerous strategic partnerships that have boosted our ability to support the evolving needs of the region's fast-developing breakbulk industry. We are pleased to make a return to the 6th edition of Breakbulk Middle East, which brings together the industry's leading elite to engage, exchange insights, as well as drive the future growth of the global breakbulk and project cargo industry."
Ben Blamire, Event Director, Breakbulk Middle East said, "At BBME we have always aimed at the growth of the industry by bringing together experts, aspiring professionals and students to have a dialogue and collaborate over new projects. The sessions throughout day one were very informative, and we received some excellent feedback from attendees. We aim to carry this success forward to next year's event. Our event would have not been possible without the endless support from both government and private sector entities that believed in us and supported us in different ways. We are now looking forward to day two that will tackle other important concerns such as women's role and the next generation of the industry, that are of crucial importance.
Other sessions from day one looked at closing the talent gap, project financing and investments, and project opportunities in Saudi Arabia. Tomorrow's program includes Women in Breakbulk (breakfast, networking and panel), Middle East Project Review seafarer welfare, along with West Africa ports project update. Education Day for students will also be held on Wednesday.