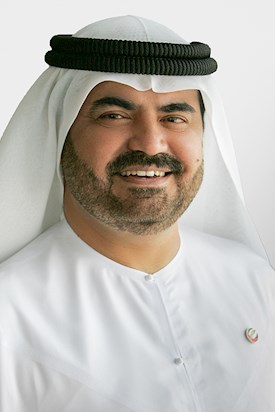 Mohammed Al Muallem
Executive Vice President, DP World
With more than three decades of port terminal operations and management experience, Mohammed Al Muallem, Chief Executive Officer & Managing Director, DP World UAE Region, has led the growth and development of the region's most important port through a period of major expansions, defining and driving its strategic vision.
Al Muallem was appointed Chairman of the Executive Merging Team of Dubai Ports Authority, Dubai Customs and the Free Zone in 2000 and in May 2004, Executive Coordinator for the Terminal 2 development at Jebel Ali Port.
Mohammed Al Muallem holds a Bachelor of Science in Industrial Engineering Degree from the University of Portland, Oregon, U.S.A. and has completed extensive training in U.K. at the University of Manchester, Cranfield College.
In line with the new structure, which incorporates DP World UAE Region's Ports, Parks and Free Zones, Logistics, Dubai Trade and World Security, Mr Al Muallem assumed the position of Chief Executive Officer and Managing Director for DP World UAE Region in January 2017 to explore a new world of opportunity that the supply chain offers.
We use cookies on this site to enhance your user experience. By continuing to visit this site you agree to our use of cookies. Learn More