Suriname Port Services NV is a private subsidiary terminal owned by DP World Paramaribo and located at La Vigilantia, close to Paranam. This terminal has 73 metres of concrete riverfront wharf supported by a 21,000 square metre storage yard. La Vigilantia is dedicated to handling project cargoes for the mining, oil and forestry sectors as well as for cement cargoes. Using a mooring dolphin, the terminal can accept vessels of up to 200 metres in length.
Our Services:

Shore base services for off shore oil – and gas operations
We provide terminal services for offshore oil- & gas operations worldwide. Owing to our global experience, we offer our clients a tailored service that is specific to their needs while also maintaining the highest standards of safety and environmental protection.
Handling of heavy lift – and oversized cargo
We have professional staff with experience in handling various types of heavy and oversized cargo. With our contribution to major projects of shipping lines and local industrial clients, we have supported our reputation as the leading logistics provider for the loading and discharge of over-sized cargo in a safe way. In turn, this reduces costs in getting the cargo to our customers' premises.

Handling of IMDG-, Log-, Clinker- & Gravel cargo
IMDG, log-, clinker-, and gravel cargo are specialized cargos capable of posing risk to health, safety and the environment. At Suriname Port Services NV we are equipped with the equipment and knowledge to ensure that these cargo types are treated according to the local and international standards. Our practices ensure safety, environmental protection and regulatory compliance from pick up to delivery.

Project cargo & Break-Bulk operations
Our worldwide experience in handling a range of cargo types has generated a wealth of international and local knowledge. This knowledge enables us to execute accurate project cargo and breakbulk operations for the industrial sector. Having faced adversity related to logistic complexity, we have developed project cargo skills that still deliver according to our clients' needs.

Rental of equipment and office spaces for projects
We offer equipment and office rental services for projects which require our clients to be present. Our flexible rating structure makes rental for project cargo affordable.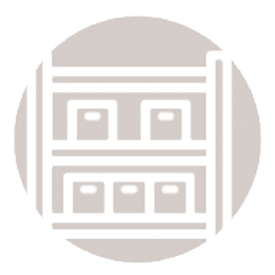 Storage facilities (open-and warehouse storage)
We offer flexible warehousing solutions for indoor and outdoor storage. Our facility is secured 24/7 with CCTV and physical object security. This way we aim to add value to our clients supply chain.
With our ISPS, ISO 9001:2015, ISO 45001:2018 and ISO 14001:2015 certification we aim to deliver quality of service against the highest safety standards in the business.