CHANGING WHAT'S POSSIBLE FOR EVERYONE
At DP World we are committed to changing what's possible by creating a positive economic and social impact wherever we work.

We leverage our position as a leader in global smart logistics to create solutions that will make a positive impact now and for future generations to come.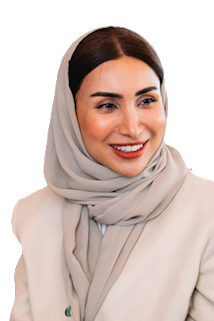 "As a global logistics leader, DP World aims to enable smarter trade to create a better future for everyone. Our sustainability strategy "Our World, Our Future" guides us in everything we do. It creates economic, environmental and social value for future generations. It is a core part of the benefits we deliver to our stakeholders, reinforcing DP World's global licence to operate."
Maha AlQattan
Group Chief Sustainability Officer
OUR APPROACH
Our Sustainability Strategy, "Our World, Our Future" ensures that we operate as a responsible business, prioritising sustainability and impact on people, the environment and the communities in which we operate to achieve a better, more socially equitable and sustainable future.
OUR SUSTAINABILITY PRIORITIES
The first part of the strategy, "Our World", includes ambitious commitments across seven priority areas to be achieved by 2030. The second part of the strategy, "Our Future", looks at the lasting legacy we will leave on our industry and society. It focuses on three areas where we can make a positive difference for future generations: education, women and water.
Education
Aligning to SDG 4 and 5, we will provide access to quality education to youth, building the necessary skills and experience to compete in the evolving global market, so that no one is left behind.
Women
Gender equality is a key legacy area – we are committed to making lasting positive impacts for women in our industry and those a part of our communities.
Water
Water is integral to our business. We work for improving inclusivity and access to reliable clean water and are committed to safeguard ocean's health, protect biodiversity and grow transformative water practices that contribute to a sustainable blue economy.
Safety
The logistics industry exposes us to a wide range of health and safety risks. Our goal is to make sure everyone goes home safe by adopting a zero harm approach, and building a culture where safety is naturally ingrained into our everyday actions and mind-set.
Security
Keeping supply chains secure is critical to ensure the safety of our people and operations. We are a member of Customs-Trade Partnership Against Terrorism, Authorized Economic Operator, Container Security Initiative and Megaports, helping us to secure the supply chain.
Wellbeing
We believe in promoting the emotional, financial, social and physical wellbeing of our people to help them thrive. We're developing a culture that prioritises wellness in all aspects of work and life, within a measurable framework that we can report on.
Ethics
DP World's Code of Ethics sets out how we maintain international best practice in preventing conflicts of interest, fraud, insider trading, misuse of information and modern slavery. We focus on creating an honest and open culture to build trust and foster strong relationships.
Community engagement
We use our strong relationship with communities to improve social outcomes. From direct community investment to employee volunteering and charitable giving, we invest in and improve the communities in which we operate.
Climate change
From the scale of energy required to make and move goods to the resource intensity of logistics, we focus on measuring and managing our direct environmental impacts and preventing global climate change.
People development
Offering development opportunities enables our colleagues to achieve business success and personal growth. We provide targeted learning and development experiences to give us a competitive advantage in smart trade.
OUR JOURNEY TO NET ZERO
2019
Baseline
We may not have all the decarbonisation solutions today but by setting a clear goal, embedding sustainability principles into our operations and collaborating with industry and government partners, we believe we can achieve our short- and long-term goals.
2030
Aligned with the Paris Agreement
An intermediate target of 28% reduction of our carbon footprint in response to the Intergovernmental Panel on Climate Change 6th Assessment Report revealing the shortcomings of the global community on path to net zero by 2050.
2040
Carbon neutrality
Compensation of residual carbon emissions after maximising deep decarbonisation. We have integrated biodiversity protection and restoration initiatives as a part of our approach to climate change mitigation and are working with the right partners to achieve this.
2050
Net zero carbon emissions
We will achieve our targets by investing in zero carbon technologies, environmental activities, and carbon compensation. DP World will be the driving force of the industry to mitigate impacts of climate change.
Equipment electrification
Equipment electrification
Established an equipment electrification capital plan for our fleet of RTGs and electric terminal tractors, with a part of our $500M investment commitment by 2027 focused on this program.


Completed proofs of concept of electric equipment, including terminal tractors and straddle carriers.


Consideration of electric equipment requirements and renewable energy in design and development of new projects.
Low-carbon vessels
Low-carbon vessels
Cross-company decarbonisation working group is leading implementation of the decarbonisation strategy within the division.


Delivery of first hybrid-electric ferry in the UK, P&O Pioneer.


Strategic partnership with the Maersk McKinney Moller Center for Zero Carbon Shipping facilitates contribution and integration of industry-leading marine decarbonisation research.
Renewable energy procurement
Renewable energy procurement
Achieved 22.1% renewable electricity supply across DP World Group in 2022, through green tariffs, self-generation, and certificates of origin.


On track to surpass 60% renewable electricity supply in 2023.


Achieved 100% renewable electricity supply at operations in Netherlands, Belgium, Germany, Serbia, Brazil, Ecuador, Chile and Dry Docks World in the UAE.
Equipment efficiency
Equipment efficiency
Started collecting detailed Overall Equipment Effectiveness (OEE) metrics data for all terminals, logistics and marine divisions to locate inefficiencies contributing to high carbon intensity operations.


OEE targets will be used to drive energy savings within operations.
NEWS & UPDATES
DP WORLD'S INNOVATIVE RAIL INCENTIVE TO DRIVE DECARBONISATION OF UK SUPPLY CHAINS
DP World, a leading provider of global end-to-end supply chain solutions, is taking the innovative step of directly incentivising ...