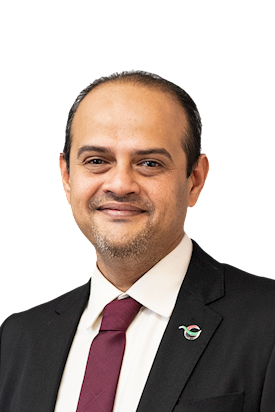 Pradeep Desai
Chief Technology Officer
Pradeep Desai is the Chief Technology Officer for DP World. He has more than 22 years of experience in product technology, relating to different areas of eCommerce including marketing, marketplace UI/UX, supply chains, logistics, and seller and catalogue growth.
After earning a bachelor's in computer science from the Indian Institute of Technology, Madras, and a Masters' in Computer Science from the University of Texas at Austin, Pradeep spent nearly 11 years at Amazon in Seattle. Over the first eight years of his career, he helped lay out many of their initial foundations for supply chain and logistics. His last three years at the company were spent in advertising and marketing, focusing on developing new technologies to get more customers and attract brands to advertise with Amazon.
Following his time at Amazon, he spent nearly three years at Groupon where he led product and technology for their eCommerce vertical Groupon Goods, delivering healthy top-line and bottom-line growth. In 2016, he moved back to India and after working with two start-ups joined Reliance Industries as their SVP of e-commerce and JioMart. He and his team launched several business products and scaled the eCommerce business and technology stack by nearly seven times in two years.